Vacation rental
Our comfortable 2-bedroom apartment will provide you a relaxing stay in Baden-Baden with a beautiful panoramic view to the Black Forest.

The 60m2, furnished apartment has a homelike living room with a dining area, a comfortable bedroom, a fully equipped kitchen and a bathroom. A large terrace and balcony are also included.
Bright and fully furnished apartment
Make you feel like at home in modern, comfortably furnished apartment. The apartment is newly renovated and has a central heating, modern windows, laminate floors, newly tiled bathroom as well as a balcony and terrace.
In front of the house are always parking spaces available.
We look forward to welcome you into the apartment. To provide you with a worry-free stay we would like to talk with you already in advance and answer your questions.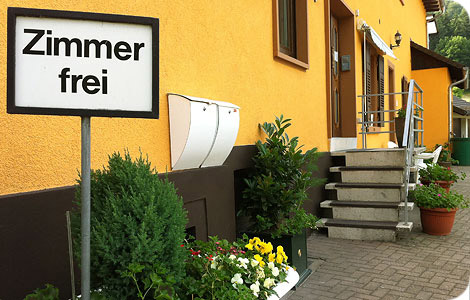 Location of the apartment
The apartment is located at the foot of the Black Forest, just four kilometers from the city center of Baden-Baden, in tranquil nature of the district Geroldsau in the Guesthouse "Alexanna". It is surrounded by dreamy woods, meadows and mineral springs, a hiking trail guides you to the most romantic scenery of the city, the almost tropical waterfall.
Excellent hiking trails with a length of 40 km, guides you passing creeks and ravines to the breathtaking views down to the city and beyond. This is an ideal place to relax, away from the center of the city, but just a few minutes away and easily reachable also by bus.

Visit the Kurhaus Baden-Baden with one of the most beautiful casino in the world, get the impressive sight of the paintings in the legendary Trinkhalle, experience the beauty of many flower gardens along the Oos River, passing splendid villas and hotels on the Lichtentallerallee. And relax in the famous thermal baths Caracalla and Friedrichsbad.

Spa town Baden-Baden
Baden-Baden is located in one of the most popular and most beautiful health resorts of Germany. The beneficial fresh air and warm climate covering all year long the spa town. Let you enchant by the atmosphere of the city when you stroll along the famous Lichtentalerallee and the Oos River, passing the magnificent villas and posh hotels. Visit the Kurhaus and the most beautiful casino in the world. Let yourself be pampered by the mineral baths in the spa town and explore the enchanting surroundings of the city.

Go for a walk through the vineyards and taste the top wines from the vineyards of Baden-Baden. Enjoy the excellent trails of the largest urban forest in Germany, which will lead you to the many old castles, creeks and breathtaking lookouts.